Making a gourmet meal? Then make sure you serve these delicious Lobster Mashed Potatoes. A true delicacy, this dish features creamy potatoes whipped with cream and butter, and combined with tender fresh lobster meat. Each bite features the rich taste of mashed potatoes and the succulent flavors of lobster. Serve with steak and salad for a truly memorable meal any time.
1 (2 lb) lobster, uncooked
salt to taste
1 tsp salt
2 lb russet potatoes, peeled and cut into
2-inch pieces
¼ c. butter
¼ c. cream, or more as needed
¼ tsp paprika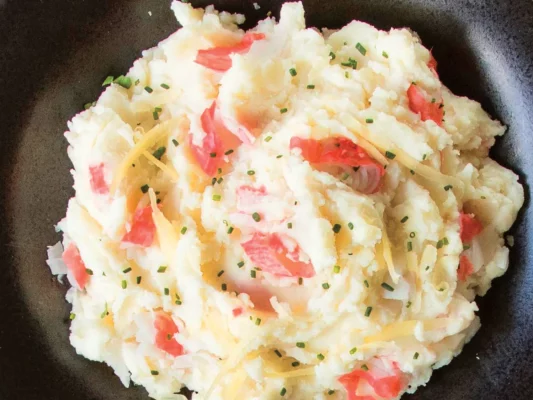 Preheat oven to 200 degrees F.
Bring a large pot of salted water to a boil.
Plunge lobster into boiling water, cover the pot, and return water to a boil.
Reduce heat to medium-low and simmer until lobster is bright pink, approximately 10 minutes.
Remove lobster from water, and set aside to cool.
When lobster is cooled, clean lobster and pull out tail meat. Reserve tail shell.
Crack claws and remove meat. Chop meat coarsely and set aside. Keep warm in preheated oven.
Fill saucepan with approximately 1 inch of salted water, and bring to a boil. 
Add potatoes, and top with intact lobster tail shell.
Cover, and simmer for 20-30 minutes until potatoes are easily pierced with a fork. 
Remove lobster shell, and discard.Drain water from saucepan.
Reduce heat to low, and add butter. Mash potatoes and butter until creamy. Slowly combine cream.
Fold in lobster meat and season with paprika as desired.
2 lb
about 907g 

(907.18 grams based on 453.59 grams in a pound)

¼ cup
about 59ml 

(59.1475 milliliters based on 236.59 milliliters in a US cup)