Lobster Pasta is a delicious and simple dish that is exceptional and sophisticated. Tender spaghetti is topped with a savory tomato sauce and fresh, whole lobster, and served piping hot. While this dish may seem decadent, it is simple to make. Serve up a romantic and memorable dinner in just minutes and wow your partner!
1 large fresh lobster
4 Tbsp olive oil
1 tsp black pepper
1 Tbsp ground cinnamon
1 c. heavy cream
1 (8 oz) package dried spaghetti
1 Tbsp butter
1 clove garlic, minced
1 bunch fresh parsley, minced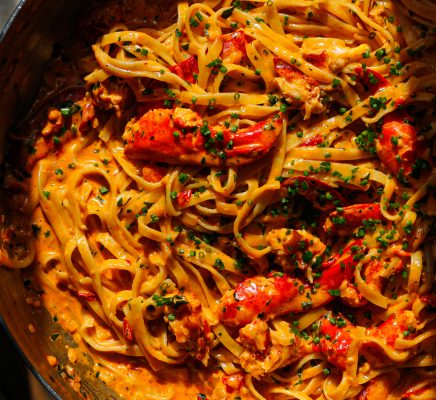 Bring a large pot of water to a boil. Add lobster, and cook for 6-8 minutes or until bright red and cooked through.
Melt 3 Tbsp butter in large skillet. Add onions and garlic and cook until just aromatic and soft. Remove from heat and set aside.
Once lobster has cooled, place on cutting board and cut in half lengthwise. 
Place the halves meaty side down in skillet with onion and garlic, and cook for 3 minutes.
Bring another pot of water to a boil and season with salt. Cook spaghetti until tender. Drain, and set aside.
Remove lobster from skillet and set aside. Add tomatoes, and increase heat, bringing to a boil. Add olive oil, salt, pepper, and cinnamon. Cook for 5-7 minutes, and slowly pour in cream, stirring constantly, until thickened and warmed through.
Transfer pasta to large bowl or serving plates and top with sauce and two lobster halves. Sprinkle with parsley and serve hot.
1 cup
about 237ml 

(236.59 milliliters based on 236.59 milliliters in a US cup)

8 oz
about 227g 

(226.796 grams based on 28.3495 grams in an ounce)