Delight in the rich flavors of Lobster Noodles! Tender lobster, aromatic ginger, and garlic, all tossed with savory noodles in a delectable sauce. A gourmet treat that's surprisingly easy to make! 
1 x Round of noodles.
1 whole lobster.
2 inches of sliced ginger.
3 cloves sliced garlic.
8 fl oz stock.
2 teaspoons of Wine.
1 tablespoon of Oyster sauce.
1 whole chilli.
1 ½ tablespoon of Oil.
1 tablespoon of Sugar.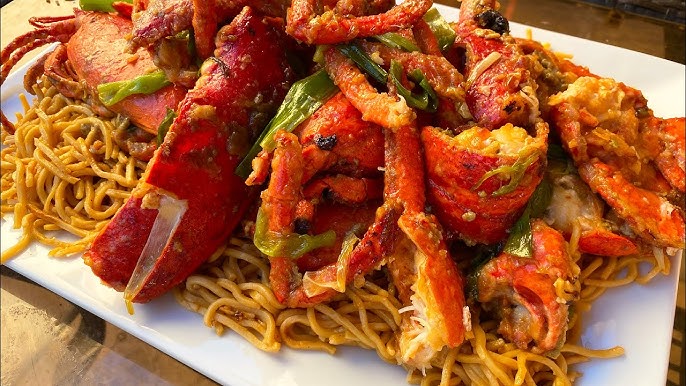 Soak the noodles in boiling water for 1 minute. Drain and rinse well with cold water, then squeeze out excess water.
Clean the lobster and cut into pieces.
Slice the ginger and garlic.
Put the oil in the wok on a high heat. Once hot add the garlic and ginger.
Add the lobster and the stock. Cook for 10 minutes them remove the lobster to a plate.
Add the remaining ingredients to the wok. Stir for 5 minutes and add the lobster and noodles. Heat through then serve.
Here are some serving ideas for your delicious Lobster Noodles: 
Garnish with fresh cilantro or basil for an aromatic twist. –
Serve alongside a side of spicy chili sauce for an extra kick.
Add a squeeze of lime juice for a burst of acidity.
Pair with a chilled glass of Sauvignon Blanc or Riesling to enhance the flavors.
Serve with a side of steamed bok choy or stir-fried vegetables for a complete meal. Enjoy your meal with these servings and enhance flavor.