Pot Pie is a classic recipe, and this lobster variation takes the comfort food to a level of elegance perfect for any holiday or special occasion. Tender lobster is baked into a savory pie with a flaky crust and to-die-for cream based filling. Savor the creamy, buttery flavors of this pot pie and warm up any cold winter's night!
1 (3 oz) package dry crab boil
5 small lobster tails
1 (15 oz) package double crust ready to use pies
5 Tbsp butter
½ c. onion, diced
½ c. celery, diced
1/3 c. flour
1 ½ c. chicken broth
¾ c. milk
1 tsp seafood seasoning
½ tsp garlic powder
¼ tsp ground black pepper
1 ½ c. frozen vegetables, thawed
½ c. potato, diced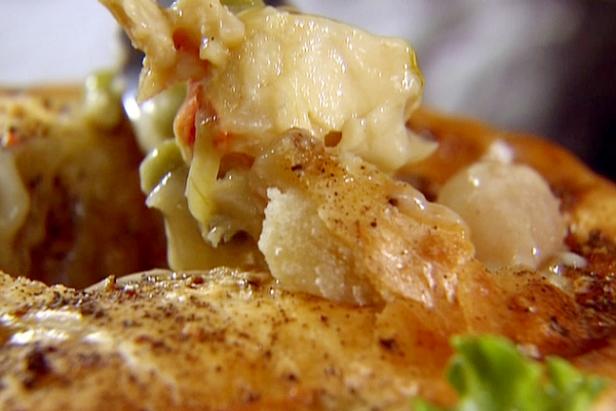 Preheat oven to 425 degrees F.
In large pot, bring water and crab bag boil to a rolling boil. Stir in lobster tails and boil until bright red, and meat becomes opaque, approximately 5-8 minutes.
Drain and cool lobster tails. Remove shells and dice meat coarsely. Transfer to bowl and set aside.
Prepare pie crust by placing into bottom of greased 9-inch pie pan. Set aside.
Heat butter in large skillet. Slowly cook onion and celery until tender, approximately 5 minutes. Slowly stir in flour and combine until vegetables are coated.
In small bowl combine chicken broth and milk. Slowly stir into onion mixture until thickened and bring to a simmer. Add seafood seasoning, garlic powder, and black pepper.
Add thawed vegetables, diced potatoes, and cooked lobster meat to sauce, and simmer until potatoes are tender, approximately 8 minutes. Transfer to prepared pie crust and cover with remaining pie crust. Seal and crimp edges of two crusts together.
Cut a large "x" into the top of the pie crust to allow steam to escape during baking. Bake 40-45 minutes or until crust is golden brown.
Remove from oven and let stand 10 minutes before serving.
3 oz = about 85g (85.0485 grams based on 28.3495 grams in an ounce)
15 oz = about 425g (425.2425 grams based on 28.3495 grams in an ounce)
½ Cup = about 118ml (118.295 milliliters based on 236.59 milliliters in a US cup)
1/3 Cup = about 79ml (78.7845 millilitres based on 236.59 mililitres in a US cup)
1 ½ Cups = about 355ml (354.885 milliliters based on 236.59 milliliters in a US cup)
¾ Cup = about 177ml (177.4425 milliliters based on 236.59 milliliters in a US cup)