Bacon-Wrapped Scallops: Succulent sea scallops enveloped in crispy, savory bacon, a delightful harmony of flavors and textures.
20 large sea scallops.
10 slices of bacon.
1 cup of Whipping cream.
2 tablespoons of Dijon mustard.
2 tablespoons of maple syrup.
Salt and pepper, to taste.
Snipped fresh chives.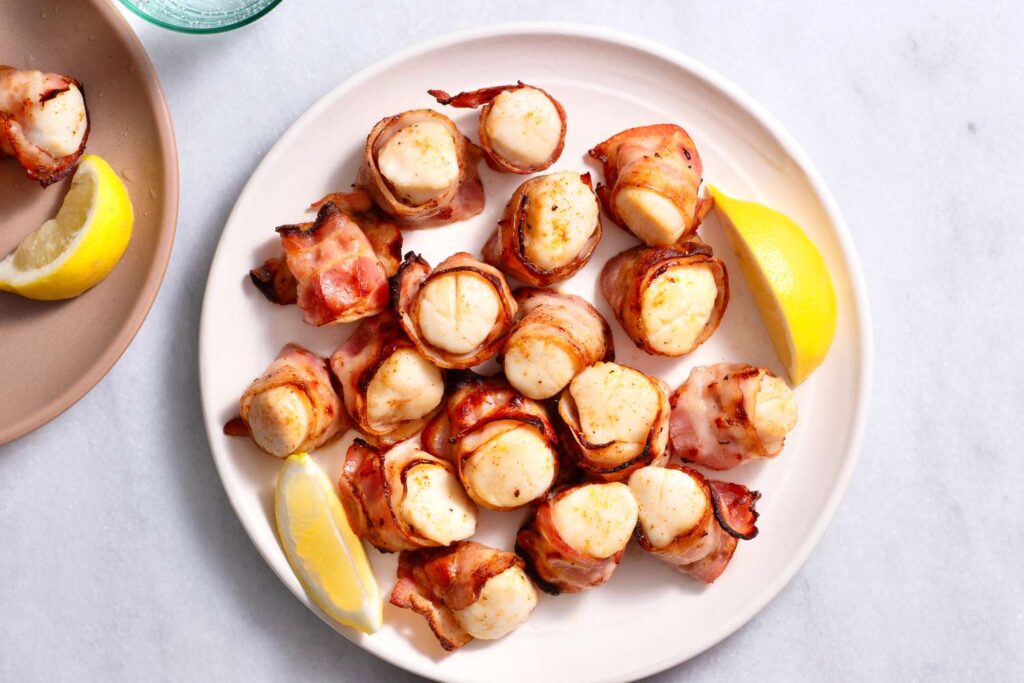 Preheat your oven to 350°F (175°C).
Arrange the slices of bacon on a baking sheet. Bake for about 8 minutes, until golden brown.
Cut each slice crosswise in half, then allow to cool.
Wrap one piece of bacon around the sides of each scallop and secure with a toothpick.
Preheat your oven to 400°F (205°C).
Place the sea scallops on a baking sheet and bake for about 10 minutes or until cooked through.
While the scallops are cooking, boil the whipping cream in heavy large skillet until reduced to about ¾ cup.
Add the Dijon mustard and maple syrup, then boil for about 3 minutes or until thickened to sauce consistency. Season with salt and pepper.
Spoon the sauce onto serving plates.
Remove the toothpicks from scallops and place on top of the sauce.
Sprinkle with the snipped fresh chives.
Serve.