Indulge in a culinary delight with this Lobster Quiche recipe. Sautéed onions and garlic, tender lobster meat, Swiss and Cheddar cheese, and a blend of herbs come together in a rich, creamy egg and half-and-half mixture. Baked to golden perfection in a flaky pie crust, this savory quiche offers a taste of luxury. Serve it warm, and savor the harmonious blend of flavors in every bite. Perfect for brunch, lunch, or a special dinner, this Lobster Quiche is a true gourmet treat.
3 medium eggs.
1 ½ cups of half-and-half.
1 tablespoon of butter, melted.
1 ½ cup of lobster meat, coarsely chopped.
¾ cup of Swiss cheese, grated.
¾ cup of Cheddar cheese, grated.
1 small onion.
1 clove of garlic.
¼ teaspoon of dry mustard.
½ teaspoon of tarragon.
1 teaspoon of parsley.
Salt and pepper, to taste.
1 packet of prepared pie crusts.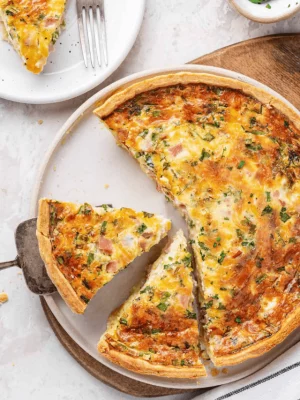 Preheat your oven to 350°F (175°C).
Finely chop the onion and sauté in a little butter. Once the onion is almost clear, crush the garlic and stir in; then remove from heat.
In a large bowl, beat the eggs thoroughly.
Add the half-and-half and beat again.
Stir in the lobster meat, Swiss cheese, and Cheddar cheese.
Add the onion and garlic, dry mustard, herbs, salt, and pepper to the lobster mixture and combine thoroughly.
Pour into a pie crust that is lining a 9-inch quiche pan.
Bake for 45 minutes or until the quiche is set.
Allow to cool for 5 minutes before slicing.
1 ½ cups
about 355ml 

(354.885 mililitres based on 236.59 mililitres in a US cup)

¾ cup
about 177ml 

(177.4425 milliliters based on 236.59 milliliters in a US cup)

175°C
350°F / Gas Mark 4