This traditional French stew will liven up any cold winter night. Tender sea scallops, savory mussels, red snapper fillets, and succulent lobster meat is simmered in a white-wine stock until savory and unforgettable. The rustic dish pairs well with crusty bread and white wine for a truly unique taste of the French countryside.
½ c. olive oil
2 stalks celery, chopped
2 cloves garlic, minced
3 leeks, sliced
1 tsp dried thyme
1 bay leaf, optional
1 (14.5) oz can diced tomatoes
2 (8 oz) bottles clam juice
2 ¾ c. dry white wine
2 tsp fennel seeds, crushed
salt and pepper to taste
3 Tbsp chopped fresh parsley
1 lb. red snapper fillets, cut into 2-inch pieces
1 pinch saffron
24 sea scallops
30 small mussels, scrubbed and debearded
1 lb cooked lobster meat, cut into bite-sized pieces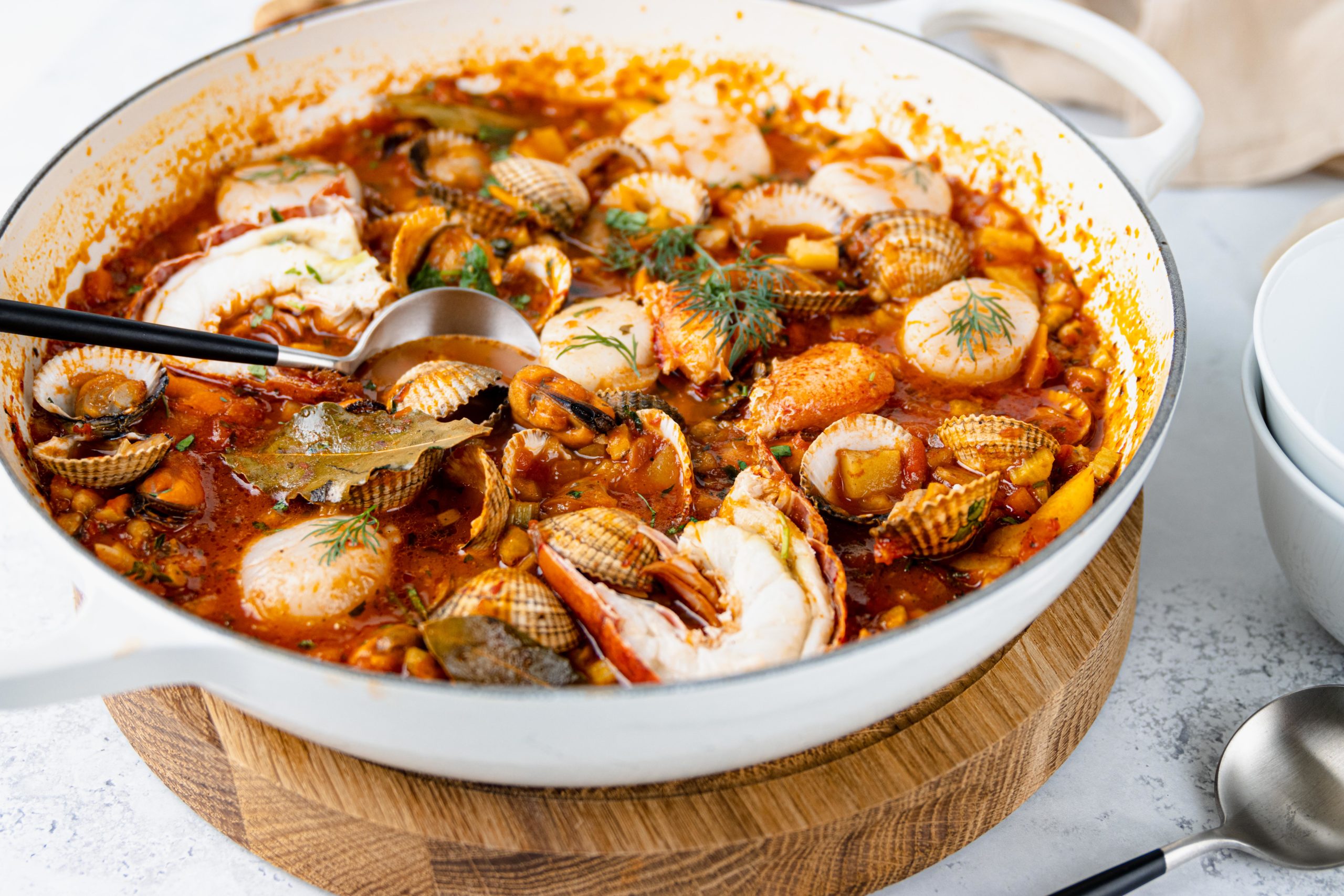 In large skillet heat oil over medium heat. Stir in celery, garlic, leeks, thyme, and bay leaf and cook until vegetables have just softened, about 5 minutes.
Add diced tomatoes to skillet. Slowly stir in clam juice, wine, fennel seeds, and parsley. Bring to a simmer and season with salt and pepper. Simmer for 15 minutes.
Add snapper, and cook for 5-10 minutes. Gently mix in saffron, scallops, and mussels and cook until scallops are no longer translucent and mussels have opened their shells, approximately 5 minutes.
Stir in lobster, and cook for 5 minutes or until heated through.
Ladle into serving bowls, making sure each portion contains 5 mussels, 2-3 scallops, and a serving of fish and lobster.
½ Cup = about 118ml (118.295 milliliters based on 236.59 milliliters in a US cup)
8 oz = about 227g (226.796 grams based on 28.3495 grams in an ounce)
2 ¾ = cups about 651ml (650.6225 milliliters based on 236.59 milliliters in a US cup)
1 lb = about 454g (453.59 grams based on 453.59 grams in a pound)