If you are looking for a delicious and impressive appetizer, these Crab & Lobster Stuffed Mushrooms will be a great way to start any dinner party. Delicious crab and lobster meat is combined with melted mozzarella and baked to perfection in a tender mushroom. Make a whole batch and watch how quickly your guests eat them up!
¾ c. melted butter, divided
1 lb fresh mushrooms, stems removed
1 c. crushed seasoned croutons
1 c. mozzarella cheese, grated
1 (6 oz) can crabmeat, drained
1 lb lobster tail, cleaned and chopped
3 Tbsp minced garlic
¼ c. shredded mozzarella cheese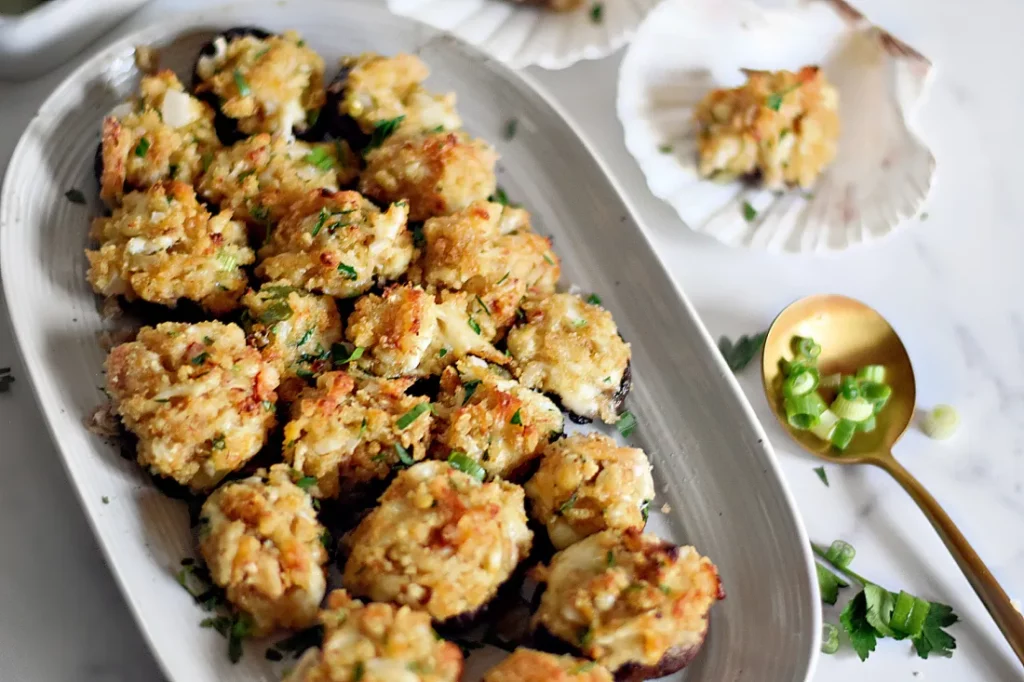 Preheat oven to 375 degrees F. Brush a large baking sheet with ¼ c. melted butter.
Arrange mushrooms in a single layer over baking sheet.
In medium bowl, combine croutons, ½ c. butter, shredded cheese, crabmeat, lobster, and garlic. Spoon apr. ½ Tbsp filling into each mushroom.
Bake for 10 minutes or until lightly browned on top. Sprinkle with additional cheese, and bake until melted. Serve hot.
¾ cup
about 177ml 

(177.4425 milliliters based on 236.59 milliliters in a US cup)

1 lb
about 454g 

(453.59 grams based on 453.59 grams in a pound)

1 cup
about 237ml 

(236.59 milliliters based on 236.59 milliliters in a US cup)

6 oz
about 170g 

(170.097 grams based on 28.3495 grams in an ounce)

¼ cup
about 59ml 

(59.1475 mililitres based on 236.59 mililitres in a US cup)