Cream of Scallop Soup: Velvety and rich, this soup features tender bay scallops simmered in a creamy broth with aromatic herbs, vegetables, and a touch of white wine. It's a delightful starter or main course, brimming with the delicate flavors of the sea. Garnish with fresh parsley or chives for an elegant touch.
2 lbs of scallops, cut into ¼-inch pieces.
½ bay leaf.
4 cups of milk.
5 tablespoons of butter.
5 tablespoons of flour.
2 tablespoons of onion, finely chopped.
1 ½ tablespoons of chopped fresh dill.
Salt and pepper, to taste.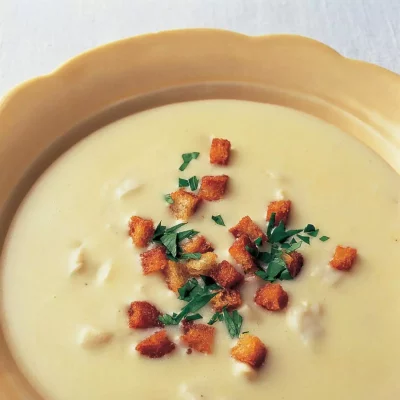 In a soup pot, melt the butter over medium heat.
Add the finely chopped onion and cook for around 5 minutes or until soft and translucent.
Stir in the flour and cook over low heat for around 2 minutes.
Stir in the milk, bay leaf and 1 cup of scallops, then allow to simmer for around 5 minutes.
Remove the bay leaf.
Add the rest of the scallops, 1 tablespoon of the dill, salt and pepper.
Heat for around 1 minute.
Sprinkle the remaining dill over top of the soup, then serve as desired.