Easy Breaded Scallops: Succulent sea scallops coated in a crispy breadcrumb crust, seasoned with a touch of salt and pepper, and fried to golden perfection. This simple yet delightful dish offers a burst of flavor and satisfying crunch in every bite, making it a quick and delicious seafood favorite. Perfect for a weeknight dinner or as an appetizer for special occasions.
1 lb of scallops, cut in half.
1 oz of Sherry.
6 tablespoons of butter, melted and divided.
½ cup of dry breadcrumbs.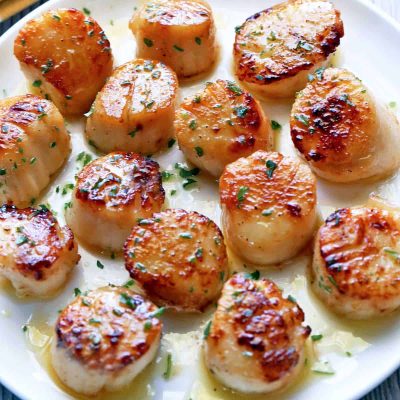 Preheat your oven to 375°F (190°C).
In a shallow buttered casserole, arrange the scallops then sprinkle with Sherry.
Pour half of the butter over the scallops; then cover with the dry breadcrumbs.
Pour the remaining butter over the breadcrumbs.
Bake for 15 minutes.