Lobster Newburg is a classic and famous dish loved for its rich and creamy flavors. It's made with succulent lobster chunks in a decadent buttery sherry cream sauce. It's been a favorite in fancy restaurants for years. The best part is that you can easily make this recipe at home and impress your loved ones with your culinary skills! Let me tell you easiest and most delicious lobster newburg recipe.
¾ lb of lobster meat.
2 hard-cooked egg yolks.
1 ½ cups of cream.
½ cup of sherry.
¼ cup of milk.
2 tablespoons of Butter.
2 tablespoons of Flour.
Pinch of nutmeg.
Pinch of cayenne powder salt and pepper to taste.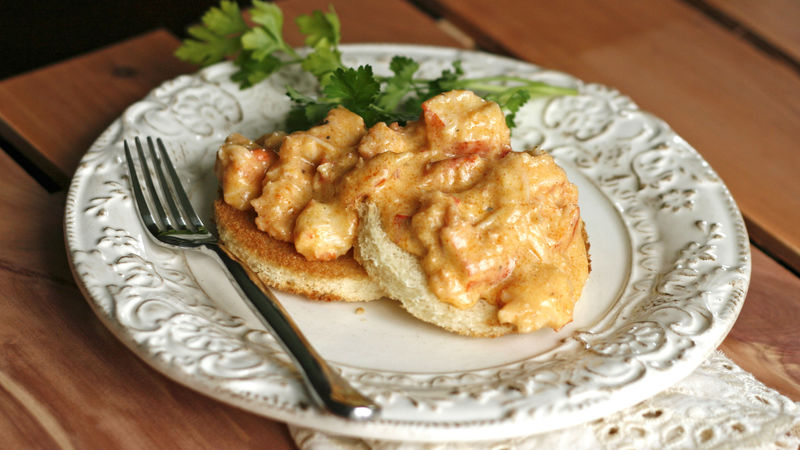 Cut the cooked lobster meat into bite-sized chunks.
Soak in sherry for around 3 hours in your refrigerator.
Make a paste of softened butter, flour, and egg yolks.
In a heavy skillet, combine the paste with cream, milk, nutmeg, and cayenne.
Over low heat, stir until moderately thick.
Drain the sherry from then lobster meat, then add the sherry to the sauce while continuing to stir until moderately thick.
Add the lobster meat, then stir until heated through.
Serve on toast points.
¾ lb = about 340g (340.1925 grams based on 453.59 grams in a pound)
1 ½ cups = about 355ml (354.885 milliliters based on 236.59 milliliters in a US cup)
½ cup = about 118ml (118.295 milliliters based on 236.59 milliliters in a US cup)
¼ cup = about 59ml (59.1475 milliliters based on 236.59 milliliters in a US cup)