Elevate your cocktail game with our Lobster Bloody Mary, a tantalizing blend of seafood and spirits. This unconventional twist on the classic cocktail combines succulent chunks of lobster with a zesty Bloody Mary mix, creating a refreshingly unique and flavorful experience. Whether you're hosting a brunch or simply looking to enjoy a savory sip, this recipe promises to delight your taste buds and impress your guests.
For the Lobster Salad:
1 cup cooked lobster meat, chopped into bite-sized pieces
1/4 cup celery, finely chopped
1/4 cup red onion, finely chopped
1/4 cup cucumber, finely chopped
1/4 cup red bell pepper, finely chopped
2 tablespoons fresh parsley, chopped
2 tablespoons lemon juice
Salt and freshly ground black pepper, to taste
For the Bloody Mary Mix:
1 1/2 cups tomato juice
3 tablespoons vodka
1 tablespoon fresh lemon juice
1 teaspoon hot sauce (adjust to your desired spiciness)
1/2 teaspoon Worcestershire sauce
Salt and freshly ground black pepper, to taste
For Garnish:
Ice cubes
Lemon wedges
Celery stalks
Pickles
Olives
Fresh basil leaves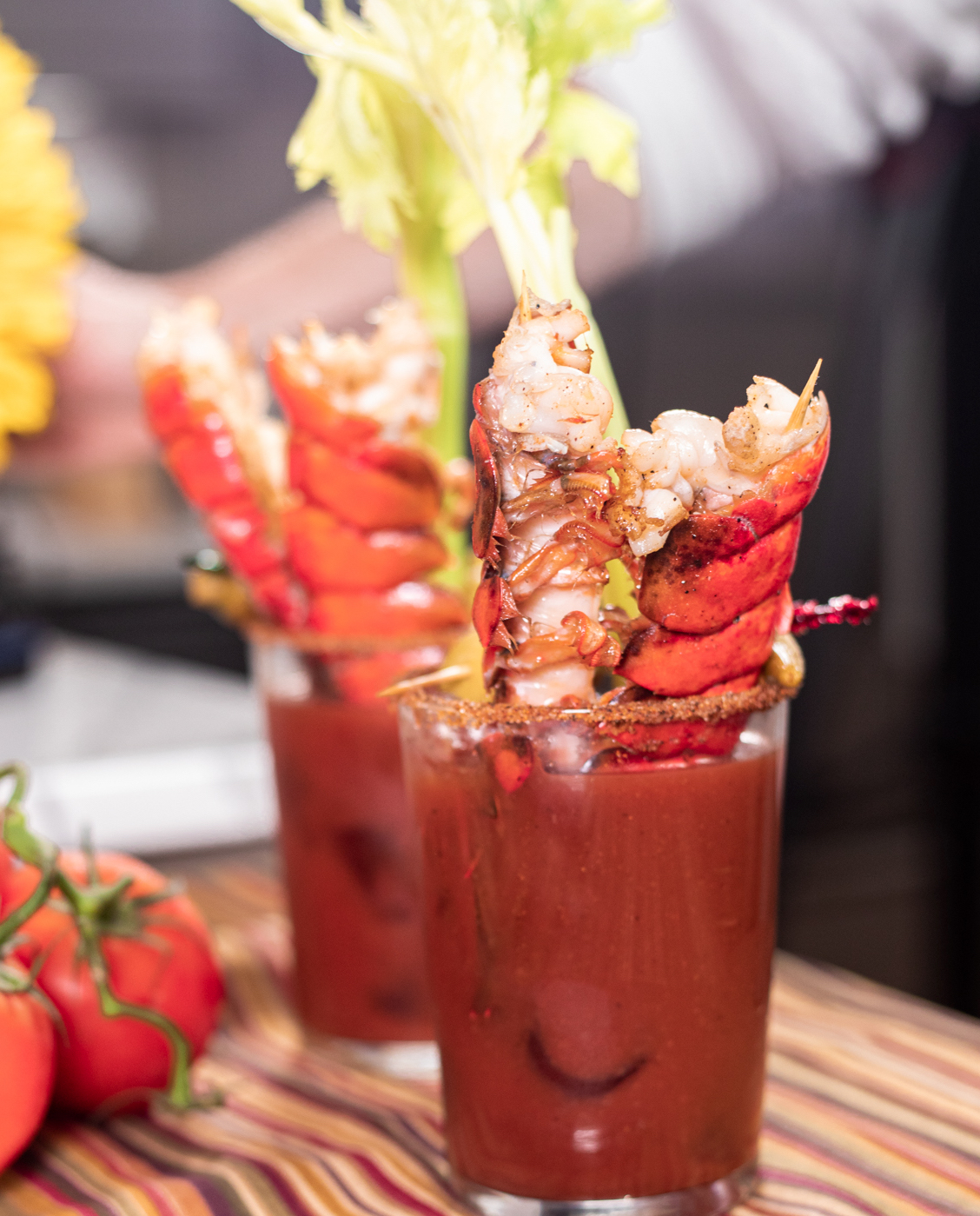 Prepare the Lobster Salad:
In a mixing bowl, combine the chopped lobster meat, celery, red onion, cucumber, red bell pepper, and fresh parsley.
Drizzle lemon juice over the mixture and season with salt and pepper. Gently toss to combine. Refrigerate the lobster salad while you make the Bloody Mary mix.
Make the Bloody Mary Mix:
In a pitcher, combine the tomato juice, vodka, fresh lemon juice, hot sauce, Worcestershire sauce, salt, and pepper. Stir well to combine.
Taste the mix and adjust the seasonings, adding more hot sauce or lemon juice as desired.
Assemble the Lobster Bloody Mary:
Fill glasses with ice cubes.
Divide the lobster salad among the glasses, placing it on top of the ice.
Pour the Bloody Mary mix over the lobster salad, filling each glass almost to the top.
Garnish each glass with a lemon wedge, celery stalk, pickles, olives, and fresh basil leaves.
Use a stir stick to mix the salad and the Bloody Mary together before enjoying.
Serve your Lobster Bloody Mary as a refreshing and savory cocktail with a twist. It's perfect for brunch or as an appetizer at a seafood feast.