Are you bored with ordinary grilled cheese sandwiches? Try lobster grilled cheese sandwiches at home. I've got the perfect recipe for you! It's a very easy and quick recipe; you can call it a "15 minutes recipe". This lobster grilled cheese is the ultimate combination of fancy and easy. You'll love how indulgent and flavorful it is.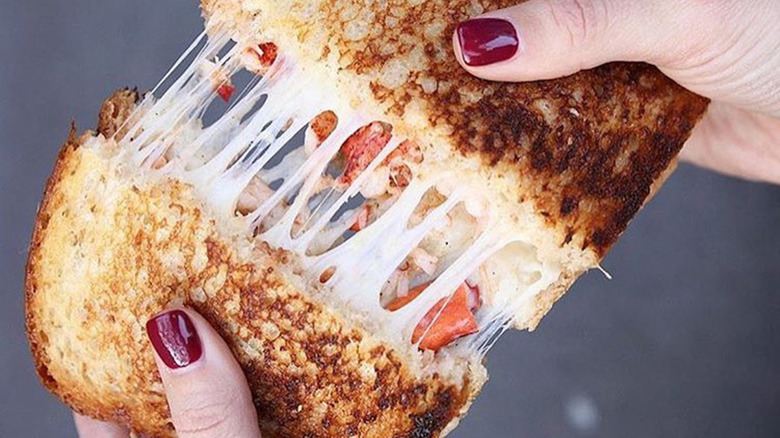 It starts with a generous amount of succulent lobster meat nestled between two layers of cheddar cheese. Then, a simple mayo mixture is spread on the bread, adding that extra touch of creaminess. When everything comes together, there's pure decadence and richness in every bite. Trust me, this recipe will take your cooking to the next level with delicious lobster grilled cheese.
 1 1/2 cups cooked (pre-cooked)lobster meat, chopped
4 slices of bread (sourdough or white bread works well)
 4 slices of cheddar cheese
 2 tablespoons butter, softened
 1 tablespoon mayonnaise
 1/2 teaspoon garlic powder
 Salt and pepper to taste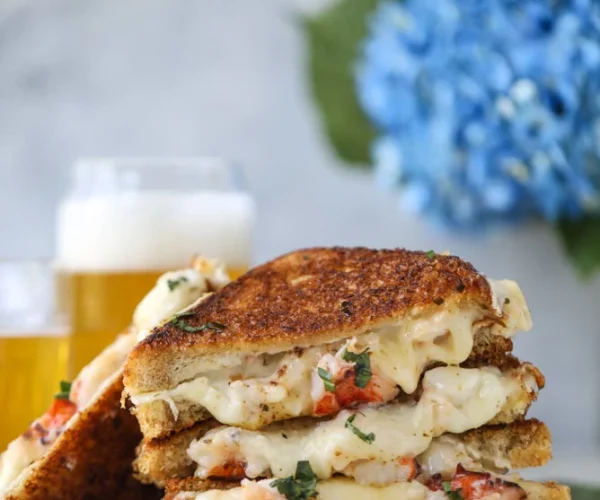 In a bowl, combine the chopped lobster meat, mayonnaise, garlic powder, salt, and pepper. Mix well.
 Spread butter on one side of each slice of bread.
 Place a slice of cheese on the unbuttered side of two bread slices.
  Divide the lobster mixture evenly and spread it on top of the cheese.
 Place another slice of cheese on top of the lobster mixture.
 Top each sandwich with the remaining bread slices, buttered side facing up.
 Heat a skillet or griddle over medium heat.
 Place the sandwiches in the skillet and cook for about 3-4 minutes on each side, or until the bread is golden brown and the cheese is melted.
 Remove from the skillet and let them cool for a minute before serving.
This recipe will make 2 servings of Lobster Grilled Cheese. Enjoy the next level of lobster grilled cheese!
Serving tips for lobster grilled cheese: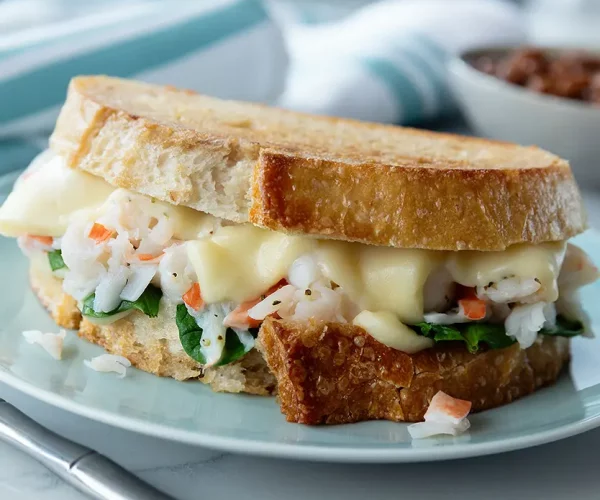 There are a few different serving methods you can try for your lobster grilled cheese. Choose the serving method that suits your occasion and enjoy your lobster grilled cheese in style!
1. Classic Style: Serve the lobster grilled cheese sandwich on its own as a main dish. Pair it with some crispy fries or a side salad for a complete meal.
2. Soup and Sandwich Combo: Serve the lobster grilled cheese alongside a bowl of creamy tomato soup or lobster bisque. The combination of the warm, cheesy sandwich and the comforting soup is absolutely delicious.
3. Mini Sliders: Cut the lobster grilled cheese into smaller pieces to create bite-sized sliders. This is perfect for parties or gatherings where guests can enjoy a variety of flavors.
4. Platter with Dips: Arrange the lobster grilled cheese sandwiches on a platter and serve them with a selection of dipping sauces like garlic aioli, spicy mayo, or even a tangy salsa. It adds an extra layer of flavor and fun to the dish.
If you are looking for other delicious lobster recipe like, baking, steaming, boiling and grilling.